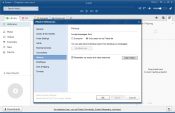 iMesh is a community-based P2P application that enables members to share their favorite content and search or download what others have previously published. Therefore, the program has an efficient built-in tracker that quickly locates the most reliable download sources.
Unlocking Seamless Multimedia Sharing
Furthermore, iMesh empowers users to enjoy multimedia content through legitimate means facilitated by a dedicated network readily accessible through a user-friendly interface.
Empowering Digital Communities
Notably, this application boasts an array of features, including streaming capabilities, integration with Facebook, and a user-friendly "favorites" tab that's easily accessible.
The addition of smartphone synchronization and Shoutcast radio further elevates iMesh, transforming it into a versatile mobile entertainment hub.
Conclusion
In conclusion, iMesh offers a seamless content-sharing experience and a gateway to a world of legitimate multimedia consumption.
Features like streaming capabilities, social media connectivity, and mobile synchronization successfully bridge the gap between peer-to-peer sharing and lawful content access.
As an entertainment hub that empowers its users, it continues to leave a lasting impression on the digital landscape, bringing together the best of both worlds for its devoted community.