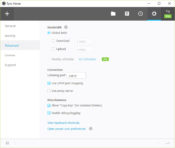 If you have issues with files that exceed a specific size and usually work with these types of files, you certainly know how hard it is to move them from one device to another.
Resilio Sync is pretty useful in this matter because you can easily sync the files between many devices such as tablets or phones and send them anywhere without having to buy expensive cloud storage or physically having to carry a hard drive.
All you have to do is select which folder you want to sync and let this tool do the rest of the work. Whenever you add files such as videos, photos, or documents to that specific folder, the files become available on all of your connected devices.
It means that your clients have easy access to all of their projects, including the edits and changes you might make, which means that they can receive them faster.
It is easy to use Resilio Sync to work on the go on your tablet and smartphone, and you may find this useful, especially if you can`t go to your office.
If you have many photos, then all you have to do is add them to your sync folder, and every person connected to you can see the images whenever he or she wants.