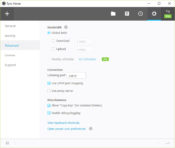 Resilio Sync offers an easy and effective way to synchronize folders and files across multiple devices or platforms so that you don't have to transfer them and save time this way.
Sharing or transferring files from one device to another can take time. It's a relatively inconvenient process where you must gather the files or folders you want to transfer, select them, and put them onto a USB device. Today, a lot of that work has been put away by this app.
Resilio Sync, formerly known as BitTorrent Sync, offers a painless and intuitive way of synchronizing folders and files across multiple devices or computers.
It allows you to access various files you synchronize on multiple computers you own without transferring them physically. It saves time and also it is more convenient.
Secure Folder Sharing
it is a modern-looking application with a very intuitive interface. Most of the work is done from the main interface, where you can share folders.
The sharing is done securely by scanning QR codes and deploying them onto a chosen smartphone or another computer. You can also link the secret code to another computer, allowing you to transfer files in seconds.
It is a very secure method of syncing and accessing files from other devices. It takes out the work and makes the process even more secure by incorporating unique QR codes and links.
There's no limit to how much or how many folders or files you decide to share. You can select as many as you want and get transferred.
Synchronize Automatically Over Many Devices
Once you select the folders you want to sync. You must follow the process to make them available on the other device. This process is secure.
Conclusion
Resilio Sync offers a quick, secure, and easy way to synchronize files from your computer or smartphone to another device.