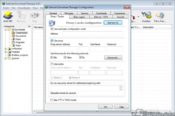 Internet Download Manager is intended to enhance download speeds up to five times thanks to a logic accelerator that dynamically segments files into several sections downloaded individually.
Today, we get most of the content on our computers from the internet. It's become the go-to place to get new things and download music, videos, and other types of content.
And sometimes, we tend to download so many things that it becomes hard to keep track of all our downloads, making us lose files as we're not organized.
And with the Internet Download Manager, you can streamline and synchronize all the downloads you make online.
The best thing about it is that it will help you sync all the downloads you make online, no matter which browser you use to make downloads. It will help you stay organized and know where your downloads are.
Organize Your Downloads from Different Browsers
Use several browsers to download content from the internet. This application will save you a lot of time and stress because it will help you sync all your downloads with different browsers, including Google Chrome, Safari, IE, Mozilla, Opera, and others.
It will integrate itself into the browser so that you can start downloading in one streamlined place.
It is worth mentioning that it also integrates a download scheduler, multilingual support, plus a drag-and-drop feature.
Schedule and Manage Downloads
Moreover, this application also offers you a lot of customizability for your downloads. It allows you to schedule your downloads and ensure you download the content when needed. You can set the date and time to make downloads.
You may use it for one-time downloads or set periodic downloads if you tend to download several files simultaneously.
Conclusion
Internet Download Manager will help you make downloads easier because it will integrate with your browsers to provide you with a place where you'll have all your downloads in one place.
Internet Download Manager features and benefits:
All popular browsers and applications are supported
Download with one click

Accelerate downloads by up to 5 times due to its intelligent dynamic file segmentation technology
Resume unfinished download from the place where they left off
Quick and easy installation program
Automatic antivirus checking
Catch any download from any application

Built-in scheduler
Supports many types of proxy servers
Supports main authentication protocols: Basic, Negotiate, NTLM, and Keberos
Customizable interface
Quick update may check for new versions of IDM
IDM is multilingual