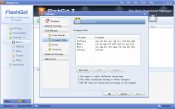 FlashGet is a free download manager with the largest users worldwide and a good approach to internet security. While adware and spyware are free, they can also check potentially dangerous files through the available antivirus installation.
Whereas the MHT (Multi-server Hyper-threading Transportation) technique and some optimization arithmetic enhance download speeds considerably, the hard drives are protected through Ultra Disk Cache Tool (UDCT).
In the same way, downloads get to be more stable. With little to no memory consumption, this download tool also features a power management feature that can support unlimited categories. As for the protocols it supports, one can notice HTTP, FTP, BT, MMS, and RTSP.
Switching between them is done automatically. Furthermore, the One Touch technique optimizes BT downloads by transferring seed information and then the target file.