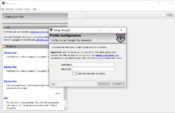 Raccoon is a simple app that lets you download Android applications easily without using the web browser. Instead, it acts as a Google Play application where you can choose and select the files you want to download.
A Simple Download Client
This application offers a very straightforward interface where everything is easy to find. It helps you easily download the files you want, without having to worry about additional aspects such as a complicated user interface. As far as download clients go, you'll do very well to find a simpler tool than this.
All you need to do to download a file with this client is log in to your Google account, open Raccoon, and search for the app you want to download. Then, select this app, locate it, and click on the Download button.
In a few moments, the app should be on your phone and placed in the archive folder created by the app.
Find Your Favorite Apps
It features a very effective search engine where you can easily find the app you're looking for. Type in the app's name, and then the results will be displayed in a neatly organized list where you can see additional details such as file size, publish date, permissions, user ratings, and more.
One more thing that's enabled by this app is search filters. With filters, you'll be able to locate your results easily. Once you type a query into the app to search for other apps, there might be hundreds of results.
Make sure you check the files for viruses before you download, though.
Conclusion
Raccoon is a fantastic app to locate and download Android APK files and install them on your phone.
It's helpful if you don't want to use the Google Play store and avoid being tracked by bots that will offer you ads that are relevant to your searches.