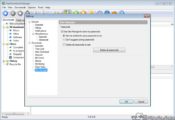 Free Download Manager promises download speeds up to six times faster than normal. The concept on which it should do this is that of simultaneously downloading different sections of the file from one or more locations.
If restarting downloads is your daily problem, thanks to this tool, waiting time will shrink, as resumes and scheduled downloads are now possible. All known protocols are supported, including BitTorrent. Another advantage is its traffic control feature and the HTML spider, which allows users to download websites to the PC.
One unique aspect derives from the possibility to check on others' opinion about the files you are about to download. Actually, this is the only security feature available.
Free Download Manager features and benefits:
Beautiful interface with modern design
Support for HTTP/HTTPS/FTP/BitTorrent

Proxy support
Accelerates your downloads

Resume broken downloads

Control your bandwidth usage
Spyware and adware protection through community members