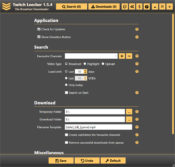 Download VOD files using Twitch Leecher, a simple tool that will help you download any number of VOD files quickly and safely, so you can create a library from the videos of your favorite streamers right on your PC.
Today, most Twitch users will watch streams on the online platform Twitch. It's a quick and easy way to watch streams. But many channels are now uploading VOD files, which can be downloaded at any time by the users and the members of the channel.
These files sometimes have the content that's not directly streamed, so it can have some interesting additions to the channel.
And with Twitch Leecher, you can easily download these VOD files and save them on computer.
The tool allows you to download them safely and quickly, as you'll be able to get as many files as you want, and almost all of the file types, too.
You can also download almost any video of various durations, so that you can enjoy your favorite content without internet connection.
Download and Watch Twitch Content Offline
When you first want to use Twitch Leecher, you'll need to install it. Luckily, the installation is very quick and painless. The installer is distributed to you in a small archive, that you only need to extract and then launch the installer to get going. Then, you only need to follow the instructions to complete the installation.
Then, you'll see that in the main interface window, you'll be able to manage and search for your favorite VOD files from your top channels.
When you search for them, you'll also be able to see various information and data about the VODs, such as name, game, length, recording time, quality, and other minor details.
Pick Your Target Direction
When you select your VOD, you can download it to your preferred destination. You can also crop the video if you want, in order to save space and make the video as short as you want.
Conclusion
Twitch Leecher allows you to download VOD files so that you can view them and watch your favorite content offline from Twitch.