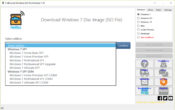 If something isn't working on your computer, you can install your operating system cleanly. The problem is finding the right ISO – it can be a real pain.
That is if you don't have the Windows ISO Downloader. With this tool, you can more quickly find and download a Windows ISO from Microsoft.
Extremely Lightweight, But Gets The Job Done
Once downloaded, there's no additional set-up required.
Just launch it, and you're good to go. And if you're clean installing multiple computers, you can save it on your flash drive, so you don't have to download it twice. Then, you can run it directly from there.
Get And Download Multiple ISO Files
You can always rely on Windows ISO Downloader for one-time or multiple downloads. Once you locate an image file, you can download it immediately or save the link for late use.
Just select the Windows version you're looking for to get started, then confirm the edition and product language. Downloading an image for Microsoft Office is nearly identical and just as easy.
Straightforward, No Fluff User Interface
The graphics look like something from the past decade – no-frills, all function. It's easy to follow because the directions and the button labels are clear.
Verdict: A Reliable and Convenient Tool
Downloading ISO images from Microsoft can be frustrating, but this program is more convenient.
The Windows ISO Downloader didn't try to reinvent the wheel but should be checked out if you want to quickly clean and install your operating system.