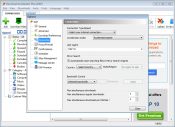 Download Accelerator Plus is packed with the latest advancements in download technology, providing one of the easiest and fastest ways to transfer files from the internet. Multichannel access and latency/ idle overcoming grant you extensive bandwidth use. In addition, it has a video preview feature that lets users play/ open whatever is being downloaded.
The link checker ensures you will not waste time with broken downloads. Regarding safe downloading, a multi-antivirus security add-on functions as a prevention utility, informing you about the potential threats lurking behind a file.
Several other add-ons are available thanks to a growing community of developers: FTP browser, ZIP preview, DAPsters Manager, and the list.
Download Accelerator Plus features and benefits:
Easily download files in the fastest speed possible
Just click to download & DAP will get you the file fast!
See what leading anti-viruses say about your file

Make sure your download files are safe before opening them
Make sure the files you download are valid

View info about your file before you download it
Watch your videos while downloading
Check your content as soon as download starts