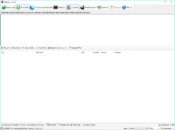 Mipony is an active download manager, and the best part is that it can be embedded in the web browser. It ensures that the system is used optimally and that the best download times are also had.
One of the telling aspects of a system with high traffic is the relatively slow connection speeds of the peripherals networked alongside.
Mipony cuts the noise to the bare minimum and ensures the best possible operating environments.
The feature of automatic functioning enables hands-free use of the application and the various systems networked therein. The management system goes beyond being autonomous and gets free functioning for the most part.
The Mipony software's most notable feature is that it is compatible with most operating systems and concurrent running programs. It is possible to use Mipony to download files from well-known file-sharing websites.
The strong performance of the application when used along with the different file-sharing software is one of the most notable points with the Mipony.
There has never been reported any active interference from any web browser.
With the Mipony remote, it is possible to take full control of downloads and the systems under consideration. On hand are many useful plug-ins that bring in the extra bit of utility value to the software application.