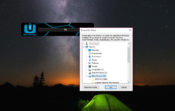 Wii U USB Helper lets you easily manage and create Wii U and 3DS backups, providing you with an intuitive interface for making sure your backups are saved where they should be safe.
When you want to swap a game on your Wii U or 3DS, it can take quite a lot of time for the device to read the disk and start the game. And if you switch between games constantly, it's even more painful.
You can also create backups of games, make sure they load up faster and keep your data safe.
For that, you'll be able to use an app like Wii U USB Helper, which helps you create and manage backups for your Wii U and 3DS games and files.
In it, you'll find an interface that will help you manage your backup content and ensure it stays safe while switching between games quickly and finding data that you want to view easily.
Easy to Install and Use
To install this application, you'll need access to the internet and a good idea of where you want to store your backups. But the installation overall should be quick and painless.
The only problem you might encounter is where to store your backups. But this should not be a hard task if you have enough space on your computer.
Backup Your Wii Content
Instead of storing your games or data for Wii U, you can keep them on your computer or USB. That's what this application allows you to do. It enables you to manage the data and the games you've backed up straight from your computer, which some users might find more intuitive and easy to do.
You can also use the Cemu emulator to play games on your computer. You can play some of the best Nintendo games with this emulator.
Conclusion
Wii U USB Helper is an app that helps you back up your games and saves them on the USB or computer.