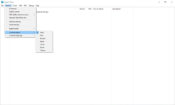 For the game lovers with Nintendo Wii device, this is a specially designed application that can provide you with the access to play your games directly on your computer.
Wii U Emulator can even work without a console. Another reason that you might like to use this application is when you are unsatisfied from the graphics provided by the console, so you might prefer to play your favorite games on your computer easily.
The emulator can support multiple formats for allowing you to play your game. WUD, WUX, ISO, WAD, and RPX are some of the formats that you can load using this application. Full-screen mode, customization of the audio setting and vertical synching of the games ate some of the features that you can adjust using Cemu.
Additionally, Cemu can also manage the cycle based times for your games and can allow you to choose the mode that can best suit the specific game of yours.
Wii U Emulator can allow you to have quick access to your favorite game in high resolution as opposed to your console.