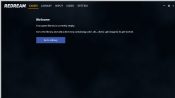 Redream allows you to play some of the famous and most popular games from the Dreamcast console in high-definition with ease. If you love Dreamcast games and you have some nostalgia for the famous console, then you will love this application.
It's an emulator for the good old Dreamcast games that will allow you to use and play them in high definition without any problems.
Dreamcast was perhaps the most popular gaming console towards the end of the 1990s, and many still play those games. Unfortunately, the console was discontinued, and the production of the console ended in the 2000s.
However, the love for the old-school Dreamcast games never stopped, and many players still love these games.
Play Your Favorite Dreamcast Games without Hassle
If you are one of those people, you will adore this app. It allows you to play those Dreamcast games without worrying too much about BIOS, flash files, and installation.
All you need to do is download the app or the game you want to play and start playing it – no installation or hassle.
The app will automatically detect the game's executable when you add the game's directory to the app. You will also be able to use and configure some of the game's settings in the app, such as playing the game in full-screen mode and some other minor settings.
With the Premium version, there are even more settings, such as screen resolution.
Straightforward and Simple
The application is incredibly easy to use. It removes the installation hassle, and trying to see if the game works. It gets constant updates and a lot of attention from the developers, making for a great experience. You can dive into your favorite Dreamcast games right away.
And the support for the games is enormous. There are many popular titles available with this emulator, and you can quickly see if your favorite game is on the list.
More than 80% of the titles are supported.
Conclusion
You can play almost any Dreamcast game with Redream, a Dreamcast gaming emulator that allows you to play Dreamcast games easily.