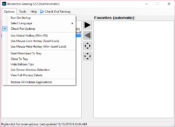 Borderless Gaming allows you to have a smooth gaming experience if you tend to Alt+Tab out of your game often, which can cause crashes or cause you to have borders on your game, even if you select the fullscreen mode.
If you like to multi-task and Alt+Tab out of your game often, you know the struggle. Some games just aren't optimized for it, which can cause crashes and various problems with resolution or lag.
Sometimes, it might cause your game screen to have borders. And with Borderless Gaming, you can easily fix most of those issues, as it enables you to play smoothly without borders.
Play at Any Resolution
This application will work best with games that enable you to play the game in the windowed mode. This windowed mode can help you play the game while you also browse some other windows or sites while gaming.
Although not all of the games you'll find today will support the function to select between windowed or fullscreen mode.
If you select the windowed option, then you know that sometimes, you'll see the borders on the window, which can be annoying.
This application will help you solve that problem and play the games on the fullscreen mode, no matter which resolution you choose.
It allows you to alt-tab easily and changes your music or check out a webpage while gaming or while you wait.
It Works with Multiple Monitors
The tool is an incredibly simple one. It's designed to bring you a simple and smooth gaming experience. You need to open this program as you launch your game, and it will take care of the rest for you.
This way, you'll be able to enjoy your favorite games without worrying about potential problems that might come with alt-tabbing.
Conclusion
Borderless Gaming is a simple application that will help you play your games in full screen and windowed modes without borders.
It also allows you to alt-tab out of your games without worrying about crashes or potential problems.