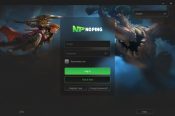 Gamers from all over the world flock to play the most popular games, and when there are many users from all corners of the world, a big problem can be the fact that there are high amounts of ping. The good news is that NoPing is a solution for that.
This application helps you solve connection issues that can cause a high ping, including the wrong type of connection, poor WiFi connection, and other server problems when playing games online.
Get Rid of High Ping
As its name suggests, it is an application that helps you lower the ping when playing games. It doesn't matter why this high ping occurs – it can be due to poor connection, WiFi problems, or other similar problems with connectivity.
The application eradicates those problems and helps you enjoy the gaming experience without lags. You can set up an account for free and use the free trial to see if the app is for you. From there, you'll need to purchase a subscription to this app.
Enjoy More Than 300 Games Lag-Free
Once you install the app, you can select the game you want to play and enhance your experience massively. Some of the world's most popular games are available in the app, including Fortnite, Call to Arms, Final Fantasy XIV, Blade and Soul, AION, World of Warcraft, Runescape, and many others.
Finding your game is easy. You can do it in the user-friendly interface or use the search function to locate your preferred game.
Once you've found your game, you can click on it and select the server that seems to be the most optimal for your needs. Then, enjoy gaming.
Conclusion
NoPing is an application that helps you eradicate game lag and enjoy games with a much lower ping. It supports many different games, and it's easy to use.
Enjoy gaming without lags with NoPing, an application that will help you eradicate high ping and enjoy online gaming lag-free and with a much lower ping.