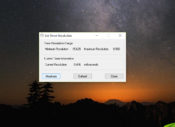 Timer Resolution lets you change your default Windows timer's resolution in a matter of seconds and consequently improve the FPS for the games you are playing.
Tweak Default Windows Timer Resolution
As you know, the standard timer for a Windows PC can vary between 10 and 25 milliseconds. You won't get the best results you want while playing if the code uses a timer or sleep value less than your system's timer resolution.
What Does Timer Resolution Do
Timer Resolution enables you to set the timer resolution while the application is running, and it will quickly revert to the previous value when it is closed.
It measures time in shorter unit increments to obtain a higher accuracy for games like Fortnite. It can offer the precision any user wants, and the accuracy depends on the Windows system's processing power. If your processor is fast, you will see that the time measurement is also more accurate. All of the stopwatch functions will be easy to control, and you will see that the stopwatch will be displayed with the number of hours, minutes, seconds, and even milliseconds.
Intuitive Hotkeys Setup
You can change this default format in the Settings window. You can use the buttons to control the stopwatch timer, but you can also control it via hotkeys.
If you have issues with the hotkeys, you have to restart the application and run it with administrative privileges.
To Conclude
You can start the timer and also pause it or even define round time. Timer Resolution is a high-accuracy stopwatch timer for Windows that can achieve 1ms timers.
You will find pretty useful while playing games that require high precision and fast reactions.