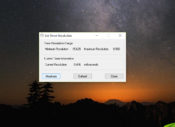 Timer Resolution lets you change your default Windows timer's resolution in seconds and consequently improves the FPS for the games you are playing.
Tweak Default Windows Timer
The Windows PC's standard timer will vary between 10 and 25 milliseconds. That is not great if you're playing games and you're worried about every detail when you play them.
These small details have been shown to improve your accuracy with some games that use this mechanism to run.
What Does Timer Resolution Do
This utility can change your Windows PC's default timer resolution in seconds.
It will help you improve the FPS for the games you're playing, ultimately giving you a small advantage over other players.
Often, this mechanism depends on your CPU, and if it's powerful enough, much of the problem will be solved already.
Set the Timer Resolution With Ease
As the tool's name suggests, it will enable you to set the resolution of the timer to another value. It is helpful when you want to alter the resolution to give you an advantage when playing games.
It is especially visible in FPS games that you play online, such as Fortnite, where every second and detail matters, and your accuracy does, too.
When you use the default settings, you'll probably know that the standard timer resolution will vary between 10 and 25 milliseconds.
It might not seem like a great deal of difference, but these small details can make a huge difference when you play FPS games or other games. And that's where Timer Resolution can help.
Intuitive Hotkeys Setup
You can use the buttons to control the stopwatch timer, but you can also control it via hotkeys. To make the app even more efficient, you can set up hotkeys for the actions performed by this application. You can change this default format in the Settings window.
You can use various combinations to control the stopwatch, for instance, or other details changed with this app.
Conclusion
 To conclude, Timer Resolution will mostly help gamers that want to change the default timer's resolution to gain a slight FPS advantage.
You can start the timer, pause it, or define round time. It is a high-accuracy stopwatch timer for Windows that can achieve 1ms timers.
You will find it useful while playing games requiring high precision and fast reactions.