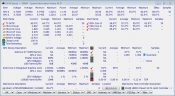 Do you want to view more information about your system and your hardware? Then you can use System Information Viewer, which can help you retrieve information about your computer and the hardware and also features customization data.
It will help you view the information about your computer's hardware. You can view all of the configurations you have in place for the most important hardware pieces, such as CPU, GPU, memory, and other components you have.
It has several different modules and tools and is highly portable, so you can use it on almost any device.
Simple To Use And No Installation
When you want to start using System Information Viewer, you must deploy it on your computer – no installation is required. It is designed to show you information, so it doesn't have a complicated interface.
It allows you to use it on several devices quickly and instantly without installation. In essence, this is a very simple app.
View Important Hardware Information
Within the interface, you can select the type of hardware you want to scan and view the information about. It will get minimized to the system tray when you don't need it, and you can also deploy it instantly. You can view the current resource usage in the main window and physical memory usage and availability.
Moreover, you can easily view and analyze your GPU and CPU information. You can also view what drivers you have installed, DNS names, DLLs installed, sensor debugging information, PCI devices in place, information about IP addresses, SPD data, disk mapping info, and more.
The tool will give you comprehensive reports based on the type of information you want to see. You can easily copy the information you get to your clipboard and use it everywhere else. There are also some customization options for a more organized viewing.
Conclusion
System Information Viewer is a comprehensive application designed to help you view the information about your hardware.