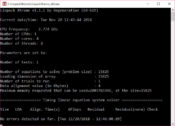 Linpack Xtreme has been designed to analyze Windows systems' stress levels. This software works best for computers that are running on overclocked hardware.
This software has complex operations running on the backend, including solving algebraic equations in large quantities. The speed and accuracy with which these equations can be solved determine the stress level of your computer. This software completes all these operations with considerable speed, exercising the computer performance to the highest levels.
Additionally, the results generated from this benchmark tool are reliable because of the partial pivoting method used to create the accuracy of the results.
However, it would help if you kept an eye on the heat level generated by your system and its temperature because you can expect an intense heat level while the equations are being solved in your system.
Conclusively, Linpack Xtreme is a benchmark tool for analyzing the computer stress level. You can expect accuracy in the results because of the sophisticated processing algorithm.