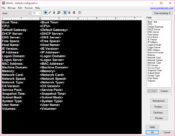 If you manage multiple computers, then it is difficult to remember the necessary information about each one if you have to maintain them regularly. In such a situation, you need BGInfo.
It can help you in getting access to the relevant information about your computer and the Windows installed in it. You can get the IP address, service pack version, and other such information as well. The background of your screen covers all this information making it easier for you to get all of the data required within no time.
The fields provided by Microsoft BGInfo are editable; thus you can change any of the fields when required. Moreover, changing the background color and font of the writing is also possible through this application. If you intend to get this information every time, you can add it up in the startup and all this information would be available to you every time, you'll boot up the computer.
With BGInfo, you don't have to worry about the consumption of excessive system resources as it does not leech down the energy or the performance of your system.  Additionally, the uninstallation of Microsoft BGInfo is not a necessity. You can change the background of the monitor to make your computer back to normal.
Microsoft BGInfo provides you an easy way out to manage the critical information about your computers, especially if you are managing many computers at once.