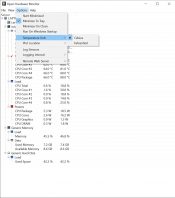 Open Hardware Monitor can help you analyze the computer components' temperature and voltage. Additionally, fan speed, load, and clock speed can be measured using this application.
It is one of the applications that can guide you about your computer's performance of various hardware components.
It is compatible with all the hardware chips on the market, so you can use Open Hardware Monitor for any of your systems. This application relies on the temperature sensors present in AMD processors and Intel processors to obtain the temperature.
The temperature of the hard drive can also be displayed on your computer. In case you have additional cards installed, this utility can help you monitor the temperature of those cards.
With Open Hardware Monitor, the basic measurements of your computer's hardware components' performance can be watched.
Some of these measurements include the fan speed and the temperature of the individual components.