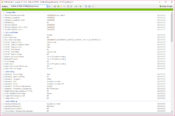 Nvidia Inspector reads the information for the GeForce graphics cards and it can access both the hardware as well as the driver. It allows you  to control the fan speed and even the clock speeds of chipsets. The most striking feature of the application, is the simple user interface that really would not need much-specialized training to handle.
Nvidia Inspector benefits from frequent updates that more than handle the everyday issues that do crop up with the use of some of the graphics cards. The very proactive stance taken by the team at Nvidia ensures that the users of the system are never put to a disadvantage due to the lack of proper backup support.
Most of the Nvidia products are keen on technology and its uses. This is evident in the use of the Nvidia Profile Inspector tool that is robust enough to withstand any amount of stress to the system.
Firstly, the future of product development is going to be dominated by the use of freeware and open source software. This is bound to lower the entry barriers to a lot of developmental activities. The Nvidia Inspector has started off in the right direction in this aspect and is bound to find many takers for the facilities that it offers the user.
Here it is not as though that the application is handling only two or three parameters. On offer is a range of features that can be monitored and controlled at best. It is possible to save the settings on the product to a file, which can be further accessed if an updated product needs settings information.