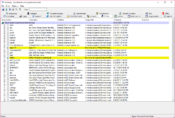 If your computer is working slowly, then you should be particularly concerned about the ways through which the performance of the system can be improved. Using this application, you can manage the entries for Windows startup to enhance the overall performance of your computer and reduce the boot time. It can provide you with remote protection against specific malware too.
AutoRuns is a portable application that can work on your computer without even installation. You do not also have to worry about the changes made in the registry so that it can be used anywhere at any time. Although, the interface is easy to use it is bombarded with the technical terms, so for a beginner in this field managing this application could be a bit difficult.
AutoRuns manages to provide the complete list of the autorun entry with their paths and descriptions too. At this point, you can disable, enable or manage the various entries available in the list, which enhances the boot time. All this information can be exported to the different formats including documents and snapshots. Even the snapshots taken at different points of time can be compared and analyzed for their performance. It can also enable you to verify the code signatures.
AutoRuns can help you in managing the entries, which are responsible for maintaining the boot time. By efficient management, you can improve the boot speed and performance of your computer.