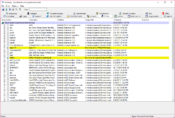 Configure which applications get to run at Windows startup with the help of AutoRuns, which is an intuitive application to use when you want to make sure that some applications don't get run when you launch your PC.
If you're looking to boost your system boot time, one of the first things you'll want to do is ensure you aren't running unnecessary applications at startup.
Some applications might get launched automatically as you open up your system, inevitably slowing it down and making the startup slower.
You can configure which applications get to run at startup using AutoRuns. With this application, you can specify which applications you run when the system starts up and which you want to disable.
You'll see a list of apps scheduled to run, where you'll be able to delete entries and ensure they don't slow down your PC.
Simple UI
It allows you to use it anywhere you might be, as you can put it on your USB drive and run it anywhere. It's also lightweight because it doesn't waste a lot of space and won't impact the Windows registries.
It has a simple interface allows even novice users to start making changes without much knowledge.
Open Settings and Configure Them
You'll see that this application aims to help you spot which apps are run at startup and then configure them with ease. It will show you all the open tasks, including Windows system processes and others.
It also includes any gadgets and apps connected to gadgets that you have used on your computer.
You can review every entry on the list to see which apps you need to run and which you don't. Making changes is simple, as you can untick or tick boxes for the apps that you don't want to run.
Conclusion
AutoRuns is useful for analyzing the apps that run at startup and deselecting some of those you don't need.