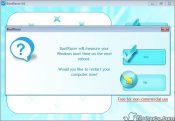 With BootRacer, you'll be able to measure your system's boot-up time, so you can improve it as you can implement some speed-up tactics employed by this application.
Boot-up time can frustrate many users since some computers might take forever. It is especially true of older computers, but even newer computers struggle with this sometimes.
It might happen because of a clogged hard drive or some other issues slowing your computer down.
Luckily, you now have a way of analyzing the boot-up speed of your computer. You can use BootRacer to find the boot-up speed, analyze your computer's speed, and make it faster.
It's easy to use and has an attractive interface, making it simple for users to improve the performance of their computers.
Log Boot Time and Improve It
BootRacer aims to help you provide a platform where you can log the boot times of your computer. You'll be able to see how long it takes for your computer to go from idle to fully launch.
It will measure all the seconds your computer needs from launching to full Windows boot, and you'll be able to observe these times in the long term.
Based on the app's readings, you'll be able to make changes to the device to speed it up.
You'll see exactly where the computer is slowed down and where there could be improvements to your boot-up speed. You'll be able to track the boot-up times for a long time to see if it has regressed after using it, too.
Elegant Interface
BootRacer is easy to use. It has a simple interface where you'll be able to see all of the statistics with ease. In addition, the interface is nicely arranged, as it will not overwhelm you with unnecessary details.
Conclusion
BootRacer is a great tool for making your computer boot up faster and analyzing its boot-up speeds over longer periods.