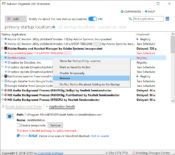 Want to configure which apps get launched when you start up your computer? Then you can use Autorun Organizer, which is a useful tool that will help you manage the programs that get run at the startup of your Windows system.
Having programs that are started up every time you open your computer can be useful. It may save you quite some time because it will help you make sure that you run some apps that can be crucial for your computer without having to launch them first.
However, some apps are just not useful to be run at startup.
To organize which apps get run when you open your computer, you can use the Autorun Organizer app. It can be a highly valuable and useful application to anyone who wants to configure which apps get run when you start up your computer.
You can also view the properties of each app and modify them when they run.
Configure Apps Running at Windows Startup
When you first open this application, you will see the list of applications that can be configured. The applications can be sorted by the date you have installed them.
Of course, this application's main purpose is to help you specify which apps are run at the launch of your Windows system. You can do that and easily and with just a couple of clicks.
What is more, you can also view each application's properties, and you can sort them by their installation date.
Loading Log and More
You can also monitor what time it takes for certain apps to launch when you boot up your computer, which can help you gauge whether you need to run some apps or not.
It can help you optimize your booting process as you're able to make sure that you don't run apps that can take up a lot of time to launch.
Conclusion
Autorun Organizer is a useful application that will help you make sure you only run apps at the startup you want to run. It can also allow you to view the info about each app you run at boot-up.