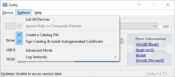 Zadig will allow you to generate catalog files and instantly install generic USB drivers on your computer without too many problems.
Tweaking your computer's components is easy, especially if you have the right tools. However, this requires you to know how these applications work and how to get the most out of them.
One of these is Zadig, a portable tool that will help you install generic USB drivers on your computer. It will feature support for many drivers, including WinUSB, libusb, libusbK, and others.
It allows you to choose from the drivers you want to install freely, and you can do that easily and quickly.
Portable and Simple
Zadig is a simple application at its core. You don't need to install it because it's a portable application that enables you to work immediately. You only need to deploy it on your computer by either downloading the archives that come with this download or uploading it to your USB drive and deploying it from there.
You'll notice that it has a minimalistic interface, enabling you to start using it instantly. It has everything organized neatly, especially its main features.
One issue might be that there's no additional help documentation, although that might only be useful if you're a beginner. Otherwise, it should be simple enough for almost anyone.
Install USB Drivers
The main capability of this tool is to help you install various USB generic drivers. It allows you to access and use your USB devices more easily.
The great thing is that you can use various driver types, including WinUSB – the most common, libusb, and libusbK. You can select these drivers from the dedicated list and make any choice you want.
Conclusion
Zadig is an effective tool that will help you install USB generic drivers on your computer, allow you to use various USB devices on your computer, and use their full potential.