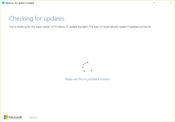 Are you stuck with your Windows 10 update, or do you want to keep it up to date automatically? Then, you can use the Windows 10 Update Assistant, which will constantly provide you with the newest Windows 10 updates as they're released.
Windows Updates are rolled out constantly to bring new changes to the platform and enhance the use of Windows. And Windows 10 also gets new features constantly, meaning you'll have to accept that your Windows will spend some time updating.
You can do that in various ways, and one of the more intuitive ones is using the Windows 10 Update Assistant.
Install The Latest Windows Version
With this application, you'll instantly install all the latest updates that come out for Windows 10. The app will automatically remind you to do that when they come out, although you can also configure it to update your Windows 10 automatically. You won't have to worry about losing your files, too.
It's always better to create backups before installing new updates, though. That's what this application encourages you to do.
The installation of this app is quick and simple, and you can run it from your desktop. From there, it will only take a couple of clicks to get your update onto your computer.
Wizard to Guide You
And if you're stuck with installing the new update – which is unlikely – you'll have a helpful wizard to guide you with the next steps. This wizard will also help you troubleshoot some of the most common problems that might happen during installation and more.
The app is aimed at beginners and has a very simple way of using it. It's very easy to use, and you don't have to be an expert.
All the way through, you'll have tips and tricks ready and a friendly wizard to guide you.
Conclusion
Windows 10 Update Assistant will help you get the latest updates for Windows 10 easily and quickly without having to do much work.