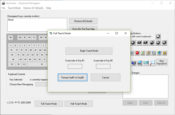 Tweak and remap your keyboard keys using KeyTweak, an intuitive and lightweight application that will allow you to change the keyboard to your needs completely.
If you're unhappy with how your keyboard works, then it might be time to consider what some keys do.
Or perhaps you've bought a keyboard with foreign keys and want to change what some keys do. Whatever your problem, you can use a specialized application to help you out.
One of these applications is KeyTweak. With this tool, you can tweak your keyboard keys and change what they do.
It will be a visual representation of your keyboard, where you'll see keys from 1 to 126. You can change the keys and what they do in seconds.
Change the Keys Easily
When installing this application, you will need to ensure your keyboard is plugged into your computer.
After making sure of that, you will see the layout of your keyboard in the main window, upon which you can start making changes.
You need to click on the chosen key you want to change and assign it to a different key or action.
The remapping process allows you to change all the keys on your keyboard and their actions, which gives you more freedom over your keyboard.
Restart Your PC After
After changing your keyboard and what it does, you will have to restart your computer to see the changes.
There are additional functions and features inside the app, such as viewing the remapping changes, using the full or part teach modes, saving the remap file for future use, and more.
Conclusion
If you want to change the keys on your keyboard and what they do, you can use KeyTweak, a simple and intuitive app for changing the keys on your keyboard.