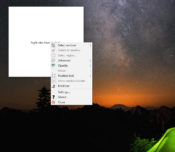 OnTopReplica can replicate the window, and you can save the relevant emails, chat, or other essential activities in Windows at a particular time. The best part is that, like additional pictures, you can edit the clone of the windows made by this software, too.
Customization and Control
You can zoom in on a particular thing to get a closer view, or you can even adjust the level of brightness and opacity of the clone made.
The adjustments made can be locked in the frame. So you can highlight the critical detail or the reason for making up the clone of the entire frame, which can be used later.
OnTopReplica does not limit you to making different frames on your desktop. So, you make as many frames as you like, and the application won't pose any restrictions to it. You can even allow the clone to work with the original window.
Limitless Productivity
In other words, you can enable the mirror image in the clone and see the changes made in the clone window with every change you make in the original one.
One of the limitations of this application is that it will take some time for you to set up this application and learn how it works to use it better. However, this limitation can be ruled out by the features provided by this application.
You can also create a transparent frame through OnTopReplica to enhance the beauty of your desktop.
While using this application, you won't have to expect the program to crash or other issues with your computer, including non-responsiveness.
Conclusion
So, whether it is the aesthetic element or the functional one, OnTopReplica is the application you can use.
With the ability to clone active windows, customize their appearance, and synchronize changes effortlessly, it offers various features that cater to productivity and aesthetics.
While there may be a learning curve in setting up and mastering this application, its capabilities far outweigh any initial challenges.
OnTopReplica ultimately provides a dynamic solution for those requiring efficient multitasking, improved organization, and a visually appealing desktop environment, making it a valuable tool for many users.