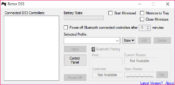 Better DS3 allows you to bring improvement to the controllers of PS3 offline, for better accuracy. It has been designed to enable gamers to configure the controllers and enjoy their best experience during their playtime.
Setting up the application is not required formally, so just downloading it will make it available for you to use it. Setting up a new profile for configuration purposes is possible, which does not harm your original game statuses. According to the developer's desire, this application makes it possible for the users to set the vibration and the movement sensor.
This process of configuring the controls is not going to take long. Once you are set with the controls, you can start the game with your controllers. This application's interface is user-friendly and allows the users to get the most out of the interactive session.
You even don't need to stop your other apps from setting up the configurations. You can keep this application always open without facing any interruptions in the computer's normal working.
For using the PS3 controllers in the best way, using Better DS3 for a single time is a good deal.