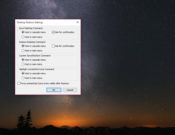 If you like to have all the icons on your desktop in a specific order and place, with the help of Desktop Restore, you can manage and restore them anytime if changes occur.
It allows you to record your desktop, saving the entire desktop icons position. It will help you identify the position before the changes are made.
If you have many items, returning them to their original position might take a long time. In this situation, you can use Desktop Restore. It will restore the initial condition of your desktop as it was before.
Using the application is simple as well. It would help if you right-clicked on the desktop to see the option in the "View" section. You can even manage some of the settings associated with the application.
However, you have no options that you can alter, making the application simple and easy to use.
Desktop Restore is an application to bring your desktop back to the previous layout in case all your icons are reshuffled.