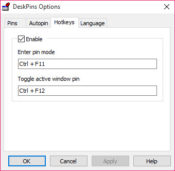 Just like your mobile applications, you can keep your favorite programs at the top of the list by using DeskPins. You can set your priorities once, and the application will keep those apps on the top of the list every time. Such a feature can enhance your productivity and can save your additional efforts and time.
Installing it is easy but using it might take some of your technical expertise. This is because it starts working as soon as it is installed. You can add applications to it for making these applications to be considered as the top priority applications. However, the advanced features that the application provides will require some of your time before you can use each of the features efficiently. Providing these additional features allow the application to target both the beginners and the advanced users of the DeskPins.
Some of the advanced features that are provided by DeskPins include changing the color of a pin to alter the priority setting, tracking rate, provision of hotkeys for managing some of the top priority application.
You don't have to face any issues with the normal operations of your windows in most of the cases. However, in some of the operating system, the freeze of the Windows for a few seconds can be observed, which is one of the limitations of this application. But this limitation prevails for a minimal period, thus you can use this application without any serious concerns.
Overall, DeskPins can manage to keep some of your applications as the priority applications that can be accessed quickly.