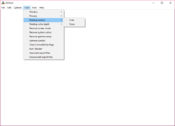 DxWnd is a fantastic tool that will help you open applications in window mode or your preferred mode, as you can resize the window size and tailor it to your screen to enjoy the applications and games.
DxWnd is a relatively simple application that can play an important role if you're a gamer and have only one screen. It allows you to run applications and games in windowed mode or set the applications to run at the sizes you want based on your computer screen.
It's helpful for those who don't have a dual-screen at home and want to run games in windowed mode.
Simple and Clean
The application is a very simple one. It has a very minimal interface so that you can focus on the things that matter the most when running applications.
When you first launch this application, you need to decompress the archive you download from here and press on the executable file to open the application.
When you want to run an executable file, you must drag and drop the files of the games you want to run in the windowed mode. It is helpful for anyone who wants to run several applications simultaneously without having an additional screen to manage all the running applications simultaneously.
Configure the Windowed Mode
It's quite easy to configure the windowed mode with this tool. Once you open it, you can select the programs you want to configure and run in the windowed mode. You do that by dragging and dropping the files you want to run in the windowed mode into the app.
Then, you can easily alter the settings of the windowed mode. You can easily change the window size, as you'll be able to ensure you run the windows in any size you want.
Conclusion
DxWnd is a great application that allows you to run the files and applications in windowed mode, as you'll be able to alter the windowed mode.