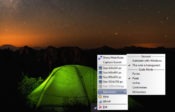 If you are a developer, then this application can be a significant benefit for you. It allows the developers to find whether their applications can work in specific resolutions on a particular device.
Window Ruler provides an ease to the users because of its simplistic interface and the portability of the application, which makes it easy for the users to have this utility with them every time.
By putting the red ball of the ruler over a window, you can quickly know its resolution. You will have to drag the ruler to measure the resolution.
Additionally, you can resize your ruler to change the measurements. Autostarting the program, ensuring transparency, managing the pixels, and using different units, including centimeters, millimeters, and inches, are additional features you can expect from this application.
It can be beneficial if you have to develop multiple applications in a month. This simple tool can provide you with the best possible measurements so that you can plan the following features of your application accordingly.
Window Ruler is an efficient tool for developers, which can help them conveniently know their applications' resolution.