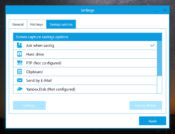 Take screenshots of your screen more effectively with ScreenShooter, an effective solution if you only need to take a screenshot of a part of your screen and save screenshots on your drive.
Taking screenshots is one of those activities that can take up a lot of time if you don't have the right tools for the job. And for some people, screenshots are an important part of their daily life because you might need to take several screenshots daily.
And doing it with the Windows screenshotting tool is not the best because you don't have any additional tools.
To help you solve those problems, you can use ScreenShooter. It is a dedicated application that will help you take screenshots easily of your screen.
You can select a part of the screen you want to take a screenshot of and then save the screenshot to your hard drive as a PNG file. It's easy to use and intuitive.
Take Screenshots Quickly
The main purpose of this tool is to help you take screenshots quickly without wasting too much time editing the screenshot.
With a simple keystroke of your choice (you can customize the shortcut in your settings), you can take a screenshot of a selected part of your screen. You can also screenshot the entire screen if you want.
The application is very lightweight because it will take less than 1MB of your hard drive once installed on your drive.
It's easy to use and provides users with an easy way to take screenshots and save them on their drives. It has a simple layout because this application has no advanced menu once you've set up everything properly.
Save Screenshots and Send Them
Once you have captured the part of the screen that you want to capture, you'll be able to save the screenshot to your hard drive.
You can do that by choosing the PNG format, enabling you to save the screenshot quickly.
Conclusion
Take screenshots quickly and save them with the help of ScreenShooter.