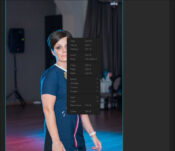 PureRef is a great but simple and lightweight utility that will help you manage the images and collect them in one place so that you can use them immediately for various projects.
It's a great application for web designers, painters, and others who need images for their work.
Collect Images and Arrange Them
The best thing about this simple app is that it will allow you to keep your images organized and collected wherever you need them and however you want them organized.
The application is portable, although you can also select to install the app if you don't want the portable version. A small window will get you started to collect the images you wish to have.
There is no limit on how many images you can add and what types of images you add. The app allows you to arrange these files as you want, as there are no real limitations on what you can do here.
You can drag and drop images and zoom in and out to see the details of each image.
Add Notes and Make Slight Changes
In addition to keeping your images in one place, this tool is also helpful if you want to perform slight changes to the pictures and if you want to add notes to them. That's great when you're working with multiple photos on one project and when you need to remember things about the images.
You can view the images in full-screen mode or use one of the many modes available in this tool.
The images can be normalized, arranged, or aligned so that you can easily use them for your projects.
Conclusion
PureRef is a simple application that allows you to keep your images organized and use them easily for various design projects.