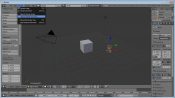 Blender blends state-of-the-art features into a seamlessly furbished interface that puts you in control of its functionality through full customization. All UI components and tools can be moved around as you like.
And there are quite a few of them to be moved. The image editor has them all starting with character modeling and GLSL support and ending with rigging, that being the possibility to transform any model into a possible character.
If you want to get involved with 3D and 2D model creation, then you should look at Blender, an open-source and free piece of software that offers you some of the best animation tools on the market.
It's a user-friendly tool with many capabilities, including modeling, texturing, lighting, animation, and more.
Intuitive Yet Expert-Oriented Interface
Take note that you might need prior knowledge about 3D animation to take full advantage of the interface inside this app. At first, the interface will feel uncomfortable and hard to master, especially if you don't have prior experience with similar tools.
But with time, you should not have that many problems conquering it.
The great thing here is that you'll have access to a massive library of helpful tips, tricks, and tutorials created by the amazing community. You should note that this application has one of the largest communities out of all 3D animation software pieces.
You can get lost in the documentation that's available through the community.
Advanced Modeling Tools
Blender is known to be one of the complete 3D animation and modeling tools around. It has many useful features and tools to help you achieve what you've planned out for yourself.
Adding modifiers will be your main action, as you can add modifiers such as Booleans, edges, splits, mask, mirror, multiresolution, lattice, mesh deform, smooth, wave, collision, explode, and smoke.
You'll also be able to render an image and redo your actions so that you don't miss a step in your animation process. You can also take screenshots or even do screencasts. It's one of the complete animation tools you'll find out there.
Conclusion
Blender is an excellent choice for those who want to master 3D and 2D animation and modeling.