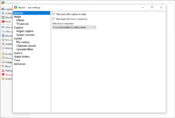 Recording your screen or some of its part has no longer remained difficult. ShareX has provided you with this function that allows you to share important information present on your screen within instants.
ShareX works without advertisements and is lightweight, so you do not have to expect any problems in using it on your device. Additionally, various modes for taking screenshots are provided by this app. These include free hand, window, scrolling, monitor, etc.
The captured screen can be edited by adding annotations, watermarking, the addition of text or any other such change. Hotkeys can be configured for this application, which can make the process of sharing simpler.
It can be used for generating QR code generator, DNS changer, and an indexed directory. Clipboard uploader and drag and drop feature for sharing are also provided by sharex.
ShareX is an application for capturing your screen and sharing it with the others just with a few clicks.