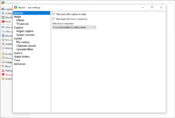 ShareX allows you to capture your screen, save the footage to your hard drive in different formats, send it to your friends, upload them online, make adjustments to the images, and much more.
If you take screenshots on your computer often, you'll want to use the most intuitive and advanced tools possible to help you make it happen.
Taking screenshots should be quick and painless, and with the many applications that offer you this, you'll be able to make your job easier.
One of those tools is ShareX, a screenshot tool that will help you make screenshots on your computer, adjust them, edit them, and send them to other people or share them online.
It has some advanced automatic actions you can take after taking the screenshot and features some neat editing tools along the way.
Free to Use
It is a free-to-use application that is also open-source. And considering all the neat tools you'll find inside its interface, it is quite impressive to think you're getting all of this for free.
You also won't find third-party offerings during installation, which happens during many free installations.
It can generate a QR code generator, a DNS changer, and an indexed directory. It also provides a clipboard uploader and a drag-and-drop feature for sharing.
Manual or Automatic Screenshotting
It excels in its automatic nature, all the additional tools it offers, and basic screenshot tools. As a result, you'll be able to automate the entire process, which is neat when taking many screenshots or taking them at carefully defined intervals.
After taking the screenshot, you'll have several editing tools that will help you improve the performance of this tool.
You can enhance your photos but also adjust them so that they can fit your particular use.
From the basic editing tools to the more advanced ones, this app has a lot to offer to various users.
Conclusion
ShareX is a neat application for taking screenshots as it comes with advanced and basic editing tools and the ability to share the shots with other people