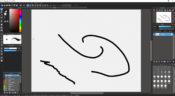 A lot of people love art, and if you are one of these people, you are probably searching for the best art creation tools. You probably already know that if you are a comic artist, you need some tools to do your art on the go. That is why it is essential to make use of the best tools you can.
If you are doing comics, then you may be interested in this MediBang Paint Pro because it is packed with all of the features you need so you can make yourself some great comics.
This tool allows you to create your comics on any device you are using because it is free to use tool which has a lot of exciting features for you to try out. Turning your device in a digital canvas is simple thanks to this tool, and if you are an artist, you can use it to create comics and even other creations that you like.
MediBang Paint Pro is bundled up with all the tools you need so you can start working on your art. It has a simple to use and to understand interface, and if you are willing to try it out, you can expect to make some fantastic creations thanks to it.
It also has some additional features such as the cloud back-up which help you in never losing your creations and always have access to them. Any user can easily understand how this simple tool works.