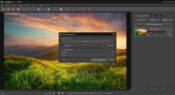 If you work with HDR content, you know that good software is as important as having good skills. Skills are enough to create good content. To take it to the next level, you need good software.
And that's where easyHDR Pro comes in handy for you. It's a comprehensive software application for producing HDR images or sequences of photos with various exposure settings. It has many decent tools and great capabilities, making it one of the best HDR management tools.
EasyHDR is a High Dynamic Range image generation and tone mapping software with various tools to help you manipulate HDR content and an easy-to-use interface.
Comprehensive and Easy to Use
First, you'll need to go through the installation process, which can take a while. There are many files that the installer needs to unzip, so you can expect it to take a bit. That's because of the many features this app has to offer.
Then, once the installation is done, you will be welcomed by a modern and sleek interface. You'll see the tabbed navigation panel on the main window, where you can select from the tools you want to work with.
In the panel in the middle, you can work on the main project you're working on. You can choose from one of the pre-generated presets on the other panel beside it.
If something's unclear to you, the good news is that this tool offers plenty of support for you. If you're not particularly experienced with this tool, you can get help from this help section to access the comprehensive documentation.
Compatible with a Variety of File Types
You can import several files into the interface and start working with them. It is great because you're going to need compatibility for a variety of file types eventually.
It includes the following formats: DNG, RAW, ERF, DCR, SRW, RAF, NEF, CRW, PNG, BMP, TIFF, and JPG. You'll only have two options for exporting files: JPG and TIFF.
With just a click of a button, you can generate HDR settings for any file format you might have. It is helpful even if you're trying to work with various formats.
Extensive Editing Tools
If you want to edit photos, this app offers some nice options. There are various presets that you can use for editing the images. You can also view the histogram, adjust the colors, and control the gamma, sharpness, and image saturation.
There are also certain effects you can apply to images, which can make them look great. There's also a batch of processing tools to edit multiple pictures simultaneously.
Conclusion
EasyHDR Pro is a comprehensive image editor and tool that lets you apply HDR effects to your images and edit them easily.