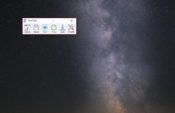 Record whatever is happening on your screen with TinyTask, a small and portable application that allows you to show off your screen with footage and repeat the action when needed.
When you want to record what's happening on your screen, you might not be able to do it without the right software.
And it can be handy when you want to remember something that's going on the screen, or when you want to show it to other people who might solve it for you and help you with your problems.
That's where TinyTask can come helpful for you. It's a portable application that you can use anywhere and on the go easily.
You don't have to install it because it's a portable application and it's very easy to use, making it simple for users to make changes on their computer and record what's going on their screen with ease.
Record Your Screen
This tool's interface is very simple and intuitive to use, even if you're a complete beginner. It will aid you with recording your screen with just a few simple clicks.
When you want to create playbacks or record footage, you can press hotkeys which you can also configure inside the interface of the tool, making it easy to use for anyone.
The tool is fairly small, and it won't obstruct other tasks on your computer. Instead, it will help you make changes in an easy manner and in just a couple of seconds.
When you need the interface, you can open the main window from the system tray, but you can minimize it and use it later on if you don't use it.
Simple App
In essence, TinyTask is very simple and uncomplicated, even for inexperienced users.
Since you can control the playbacks with your hotkeys, you don't need a lot to start recording, and you can also save the footage anywhere you want.
Conclusion
To conclude, TinyTask is a simple and effective app for recording your screen easily and without any problems, even if you're a beginner.