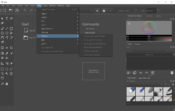 A digital painting application that can provide you with a variety of features and tools to put your imagination into reality – Krita. The interface of the application has been designed on the modern style, but the excessive tools create a chaotic outlook for the first time users. However, when you continue working with this application, you can manage these tools in a better way.
Various brushes are available for your help including pixelate. Hairy, texture, chalk, color, deform and spray as some of the options. You can even keep the brushes that are created because of experimentation after blending.
Additionally, the features like dockers, painting assistants, perspective grids and HDR painting are some of the prominent ones. Application of non-destructive changes to your images, use of filters and masks, determining the axes and parameters for your drawing are all possible through Krita.
The simple features like the adjustment of the brightness level and colors etc. are also allowed so that you can get the best depiction of your imagination into reality.
Krita is a digital painting tool with varied features that make this application one of the best in this particular niche.