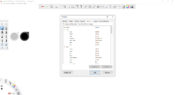 Autodesk SketchBook allows you to create sketches and draw using your digital pen and tablet, as it comes with various drawing and sketching tools and editing tools to make your life easier.
The art and drawing world is quickly changing and shaping, with many drawing tools and tablets coming to the fore.
These devices have become increasingly advanced, and having a simple drawing app installed to support them is not enough. Today, to create appealing projects, you also need to use the right software.
To help you with handheld devices for drawing, you can use Autodesk SketchBook. However, it can also be used on your computer, and it's a viable application for almost any drawing project that involves your drawing pen or tablet.
It allows you to apply filters and use various editing tools to help you complete your sketches.
Draw and Edit
Drawing with Autodesk SketchBook feels nice and smooth. That's thanks to the variety of drawing tools you'll offer inside the application.
You will have various tools and brush types, including pencils, airbrushes, markers, chisel-type pens, paintbrushes, felt and ballpoint pens, and more.
When you're done with your drawing, you can edit and change your image or drawing. This job will be a breeze with the help of basic and advanced tools.
First, you can crop and resize your drawing and make basic cuts. But more advanced editing tools are also available, such as various effects and filters that can enhance your drawings.
Customize Your Stylus
If you use a stylus to draw, you will customize how the stylus feels with this application to provide you with more precision.
From accurate calibrations to some basic adjustments, the drawing will feel smooth and elegant.
Conclusion
Autodesk SketchBook can be an excellent application when you use your digital pen or drawing tablet to create drawings, as it comes with basic and advanced tools to help you out.