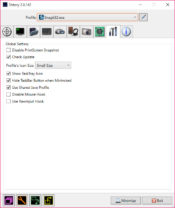 Dxtory allows you to capture footage on your screen using DirectX or OpenGL programs and then save the footage to the AVI format.
It is a simple tool, in essence. It's lightweight and simple to use, and it serves one main purpose: to offer you the possibility of capturing the screen using DirectX or OpenGL tools and then saving the footage into the AVI format.
It's employed with hotkeys and other additional tools, such as the ability to completely tailor the entire experience to your needs.
Hotkeys and Other Settings
When you start with Dxtory, you'll see it's a simple tool, as the app has a short installation.
After that, you'll have the freedom of setting up a few things inside the interface, such as setting up the hotkeys that will enable you to capture the footage instantly, as well as the ability to control a few other settings.
Among the more popular settings are the frame rate, codec, clip size, alignments, arrangements, and other settings that allow you to customize the footage to your needs.
You'll also be able to choose whether to capture the mouse and synchronize the video FPS, along with a few other settings you'll want to configure before getting started.
Take Screenshots and Footage
The screenshot and footage-taking abilities are at the core of the features inside this app. You'll be able to take screenshots of the defined area of your screen or the entire screen if you want.
You can also select the format of the files you've saved them to – among the more popular are PNG, JPEG, TGA, BMP, and AVI, which is uncommon in these apps.
Other settings, such as mixing and cropping, will give you more control over the products that come out in the end.
Another fantastic feature is Shadowplay, the capability to record the previous 20 minutes of your gameplay if you have the option enabled. Please consider that Dxtory needs .NET Framework 4.0 installed on your computer.
Conclusion
Dxtory is a simple app that aims to help you capture footage of your screen using OpenGL or DirectX tools.