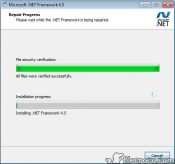 Microsoft .NET Framework provides the running environment for many Windows apps. Users need it to open them on their computer. As for the developers, they are provided with a programming model that constitutes the base line for constructing new applications that make use of the tool in deploying visual experiences for the end-user and secured communication over the internet.
XML Web services and the future generation of applications depend on this technology, as the object code can be both stored and executed locally or executed remotely, locally but distributed across the web.
With it we are sure of secure code execution, low chances of conflicting software and high performances.