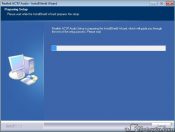 Realtek AC97 Driver is the official package for Realtek products from the old generation. This audio controller software ensures users get the most out of their audio hardware. Generally, the drivers are required by audio chips that have been integrated into the motherboard. However, the package includes codecs for the usual audio file playing, the application that lets you control the volume and the equalizer and the sound effect manager.
All operating systems are covered but you may need to also check the motherboard manufacturer's software that brings further customization settings to the deck.
Special custom settings and an updated Realtek 3D engine have been added to the package.