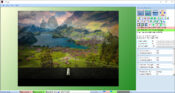 Merge is an application you need to edit images, merge two or more images and overlap them, overlap images with text, and use various editing options and tools.
Editing images is useful for adding new elements and creating custom images, becoming your creations.
Some people use those capabilities to do their work and create graphical elements that can be used as multimedia files. Enriching these images with other elements, such as text, can be enticing.
That's why you need a program such as Merge. This app will allow you to overlay two images or add text to images and put it over the photo.
It enables you to create amazing images and edits that you can use for different purposes. It supports various file formats, including BMP, JPG, PNG, TIF, TGA, PCX, and others.
Add and Edit Images
To start using Merge, you'll first need to install it on your system, which should not be too hard. The interface is simple and not graphically developed, although it focuses on simplicity rather than looks.
You can start adding images and files to the app using the file browser – one disadvantage of this tool is that it doesn't have the drag-and-drop editor.
You can start by configuring your image and start editing them. You'll have a variety of configurations and editing tools at your disposal.
You can adjust the image scale, specify the merge method, and set the contrast, brightness, and RGB levels. You may also want to apply a filter, such as grayscale, blur, or emboss, and edit the image this way.
Merge Images and Overlay Them
You can start adding new images to the interface at any point during the editing process. You can change the source of any image at any moment, but you can also open a new image, add text, blank pictures, and more.
These can be copied from the Clipboard, which you can create to make things easier.
Then, you can start blending the images. For this, you can use various blending methods available inside Merge.
These include the Blend function, the standard function for blending images. Then there's the Smooth option, which will smoothen out the edges of the two. Lastly, the Rectangle option will keep the pictures in a more rectangle-like shape.
An important thing to note here is that Merge might use quite a significant portion of your computer's resources, including CPU and memory.
But at the same time, it will work quickly, and it has fast response times, and there should not be any issues when you run this program.
Conclusion
Merge is a useful editing tool that can help you blend images using different methods. Although it could use some additional user-friendliness tools, such as the drag-and-drop interface, it still provides its users with valuable tools to help them edit images.