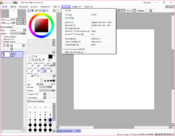 PaintTool SAI is a comprehensive tool for enhancing your images' quality, thanks to an impressive set of editing tools that helps you alter the images in almost any way you want.
When you want to improve the look of an image and enhance it, you'll need a good piece of software with the tools that will help you do just that. And PaintTool SAI can become exactly such a tool.
It's an editing tool for images and photos that will provide you with an impressive set of tools for enhancing images and making alterations.
Intuitive Layout Makes it Easy for Users
When you choose to use this tool, you'll need to download and install it first. The installation process is relatively simple and fast. You'll need an account to start, so you'll need to take care of that first.
Everything is laid out at the top of the interface, where you can choose from the tools you can use. And once you enter into the application, you'll see that the interface might look outdated. However, once you start diving deeper into it, you'll see that it's slightly atypical as far as painting and editing tools go.
If you've ever used MS Paint, you'll see that this tool looks quite similar. However, the biggest difference between this tool and MS Paint is the number of features at your disposal.
Tons of useful features come available with this tool, which you won't find in a simple tool like MS Paint.
A Wealth of Tools and Features
It's got everything you need from an editing tool like this and much more. And it does well where Paint fails – in the number of options and features you have.
Conclusion
PaintTool SAI is a comprehensive editing tool for images and pictures that offers you many useful features and tools to make editing easier.