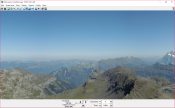 WPanorama allows you to view panoramic pictures vertically and horizontally while utilizing a user-friendly interface and a powerful set of tools.
Panoramic pictures are trendy – they allow us to see iconic sceneries without compromising on taking too many pictures simultaneously. However, the problem with panoramic photos is that they can be too large to view at full resolution.
That's where a tool like the WPanorama comes into play. It's a tool that allows you to see entire panoramic images, whether you're taking horizontal or vertical panoramas.
Intuitive and Lightweight Interface
The best thing about this application is its incredibly easy use. It has a useful and user-friendly interface to import and view images in a few clicks. That's allowed by the drag-and-drop method, where you can access the file browser directly.
But the application allows you to view and edit the entire panorama thanks to its intuitive and user-friendly tools.
As such, you can scroll through the panorama and set the increment and timer for viewing the panorama. You can even create a slideshow and screensaver, which is useful if you like the picture.
Configure the Panorama Easily
So you can easily show and see the display options with panoramas, including the image display resolution, logo, title display, and loop mode. You can also make changes to the panorama and configure it, making it much easier to view. All this can be done with the easy-to-use interface.
But additionally, you can also capture multiple images from the panorama and export them individually. For example, you can easily transport them into a BMP format or create an AVI movie.
You can also switch to full-screen mode and view the complete image. The set of tools is impressive for such a lightweight application.
If you're looking to create a screensaver with this app, there are also many useful tools and functions for you. It includes the screensaver language mode, display mode, stretch filter, reverse delay, and orientation.
Additional Configuration Options
It lets you make several changes to the configurations, including the interface language, control panel and toolbar options, image dimensions, background color, and other changes. Practically, you can make the experience entirely suited to your needs.
There are also additional options to the app's configurations, including full screen loading, sound player, and advanced properties, where you can configure further details.
Note that the app can take away a considerable chunk of your computer's resources, especially the memory. But the app is very responsive and won't often crash, which results in a satisfactory user experience.
Conclusion
View and alter the panoramas on your computer with WPanorama, where you can configure and make changes to your panoramas.
You can view them in full resolution, or you can make changes to them and even save individual images as screensavers. If you deal with panoramas often, this is a must-have app.