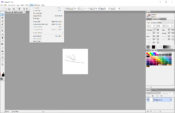 Artweaver is a photo editing software that offers you advanced editing tools, including drawing tools, which allow you to use your creativity to its full potential.
If you're into painting, you probably know about the rise of digital painting and drawing popularity. With the right tools, you'll be able to use your creativity and put it to good use by using digital painting tools.
It also requires some skills and practice, and it's essentially different from classical painting, but it can be highly effective when done right.
You can use Artweaver to help you with your digital painting. It's primarily a photo editing suite with advanced drawing tools to help you out. It is made to help you use your creativity and digital drawing tools like a tablet.
It's also free to use, giving it a significant advantage over other tools that can be quite expensive.
Interface Made Simple
When using digital drawing tools like Artweaver, one of the most important things is having the interface arranged in a simple and organized manner. Artweaver does a good job at this.
You'll find an interface suitable for this type of work as it doesn't complicate things unnecessarily.
Create Detailed Paintings
There are many different tools inside this suite that you can use to make your paintings. There's the eraser tool, paint buckets, crop, selection, text inserting tools, and a variety of other tools. You'll find a nice collection of brushes and a good array of different drawing tools to go along with it.
You can also alter certain parameters and aspects of each drawing tool, as you can change the thickness of brushes, for instance, or other elements relevant to each drawing tool inside the interface.
Conclusion
Artweaver is a free-to-use digital drawing tool that provides all the tools to help you enjoy your digital drawing and use your creativity to its fullest.