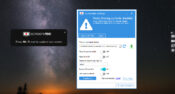 Screenrec helps you capture images and videos straight from your desktop and share them instantly with generated links. Screen grabbing is one of the most important aspects of many content creators and people who work with computers daily.
Screenrec is a better utility app that allows you to create and take high-resolution images and video captures straight from your screen.
It also helps you instantly share those images and videos with others with just a few clicks.
Seamless Image Capturing
Before you use the app, you'll need to create an account – at least if you want to share your captures with others. You won't need to create an account for solely capturing images or videos and then saving them on your computer.
The good thing is that you can easily connect your Google account and sign up that way.
To start capturing screens, you only need to do a few simple things. Right-click the taskbar icon, select Image Capture and select the area of your screen you want to capture. Then you only need to create the capture.
The video capturing is also as straightforward. You only need to select the screen you want to capture and the duration of the capture, and you also have some other settings.
You also have the option to enable or disable your microphone when capturing the video.
Private Data Sharing
If you want to share the captures with others, you can do so via privately secured links. The app automatically generates a private sharing link if you click on the share icon.
Then, you can share the capture with anyone you want and everywhere you want –paste the link generated by the app.
Then, the recipient will enter the URL into their browser and download the file you've added to their computer. It is as safe as it gets.
Conclusion
Screenrec is one of the easiest and safest images and video capturing applications you can get for quick and easy screen captures that you can share.